When it comes to sparking the romance in your relationship, there are lots of things that you could do. Sharing a candlelight dinner together—just the two of you sipping wine and sharing a special meal—appeals to many couples. But instead of ordering takeout or making a reservation at a restaurant, take things up a notch and try cooking a romantic dinner together as a couple.
Couples who regularly cook together have happier and healthier relationships. Cooking together reduces stress, strengthens emotional ties, improves self-esteem, increases sexual intimacy, and helps keep lines of communication open. But there are some things you should take into consideration before you head off for the kitchen.
These five easy tips will help you get the most out of your time in the kitchen together:
Work together to choose a recipe. If you're going to cook together, you'll need to plan and discuss the meal first. You need to decide what to cook. You may want to try a new recipe, which is fine. But be sure to pick something that both of you will like and can cook. You could consider something entirely new, or you may choose just to put a new twist on a recipe that's already a favorite.
Sip glasses of wine while you look online together for your recipe. And choose a recipe that pairs well with wine. Cheesy recipes, light fish dishes, foods with earthy flavors, and sweet-and-spicy barbecue foods are all good candidates. Either way, it's another way to spend time together.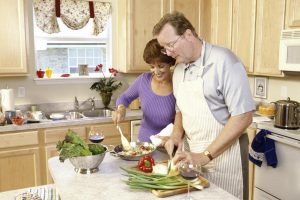 Your partner might enjoy cooking, or he may not be very good at it. Cooking may come naturally to him, or perhaps it doesn't. Whatever the case may be, choose an easy recipe that will require minimal prep time and has a shorter list of ingredients. You certainly don't want to spend your whole evening together cooking. You need to save some energy for some romance after the meal!
Avoid cooking a greasy or heavy meal for this special occasion. Though they taste good, greasy or heavy meals can make you sleepy, which isn't very sexy. Protein-rich meats and dairy-based dinners also won't help your sex drive. Instead, stick to a lighter meal.
Shop together for the ingredients. Once you've chosen a recipe, the next step is to purchase the ingredients. The latest trend is to purchase groceries online and have them delivered to your doorstep. But in this case, it would be better to go to a supermarket together and pick out the things you need. This gives you more time together.
Shopping together also gives you the opportunity to talk about your cooking plans and the rest of your time together. It gives you time to discuss how much money you can spend on this special meal, especially if some ingredients cost more than you thought they might. Shopping together lets you track how much money you're spending. And don't forget to pick up a bouquet of flowers and some pleasantly scented candles.
Plan out your roles ahead of time. Cooking together as a couple doesn't mean you must equally share all of the tasks. It's not likely that each of you has the same skill set when it comes to cooking. You may both love cooking and food, but it's likely that you each have your own strengths and weaknesses. For example, one of you may be more comfortable cooking with meat, while the other works wonders with side dishes. One may be familiar with Asian sauces and spices, while the other is a master of desserts.
So discuss your strengths and weaknesses, and divide your responsibilities accordingly. This will help you reduce any stress that may develop in the kitchen.
Include finger foods. Don't feel obligated to plan out a full three-course meal. But be sure to include some appetizers or snacks in addition to the main entree. Finger foods are easy to prepare, and they help your romantic evening to last longer. You could share finger-food snacks before your main course while talking and sipping your favorite wine. You could even take a break after nibbling snacks—maybe share a few romantic dances—and then get back to the main entree.
Set the proper mood. Cooking together is more than boiling eggs and chopping vegetables together. It's also about setting a romantic mood. The kitchen is probably not the most romantic room in your house, but you can incorporate music, candles and flowers into your cooking time.
You don't need to spend a lot to do this. And by all means, turn off your screens and remove other potential distractions. Focus your full attention on each other, on cooking together, and on what comes afterwards.
Also, set a pretty table for two including a beautiful tablecloth, candles, and flowers. Plan this romantic set-up in advance, so you can focus your time together on cooking. Cooking together is a great way to add some spice to your romantic life. It's an easy way to feel connected both physically and emotionally.
These five easy tips should help make your cooking time as a couple as romantic as possible. Have fun, and have a wonderful night together!